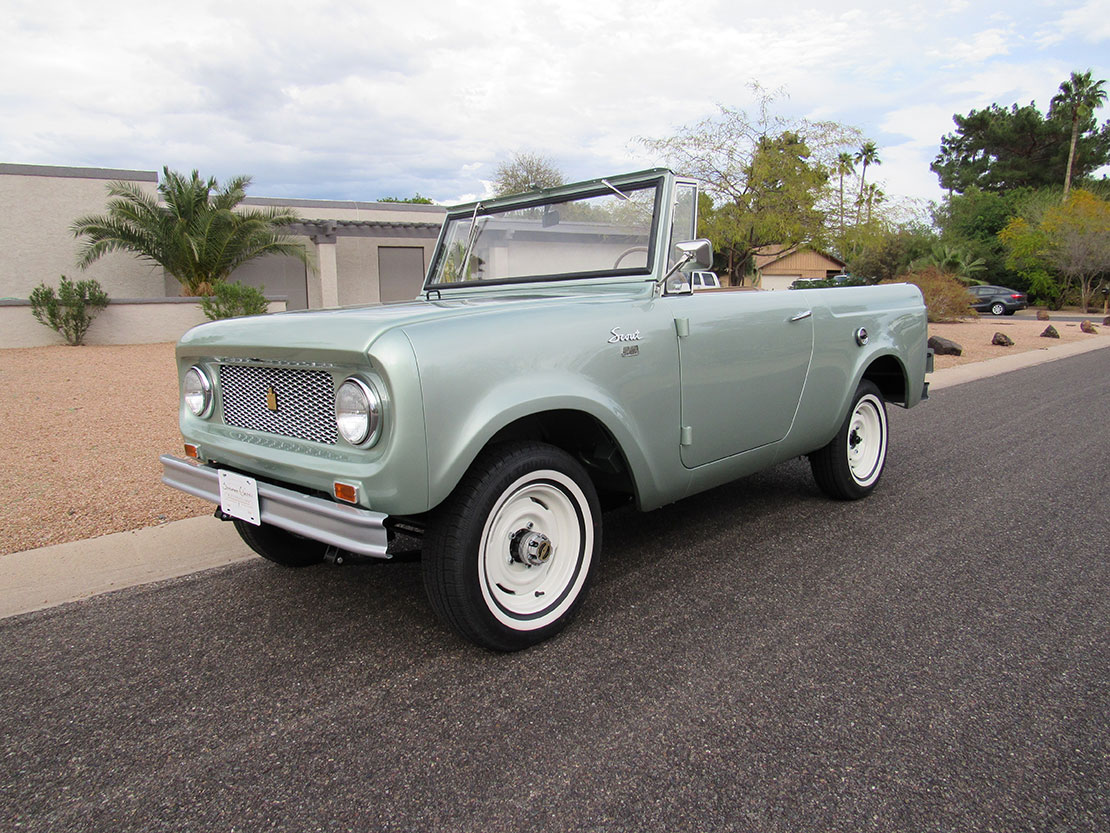 1964 International Scout 80
PROJECT: 1964 International Scout 80 Truck
COLOR: Seafoam Green
Photo Gallery Below (with Before and After):


This client was a perfectionist who was looking for something a little more UNIQUE and RARE and found it in this gorgeous half-cab 4 x 4 International Harvester Scout 80.

This was a meticulous frame off, nut and bolt restoration. Nothing had been left untouched with every item having been replaced, reconditioned or upgraded.

A complete makeover from top to bottom and inside out, starting with an "exquisite and oh so unique body color" (it's a real head turner), following are all the details:

Body:

Bodywork and paint was professionally completed by myself, a seasoned Professional Auto Body Painter (nearly 30 years in the business). Paint was originally tan, with the Scout being disassembled, old paint stripped, and properly recolored to a fine metallic seafoam green, which was a period correct color for the 1960's. The bodywork was done to where the Scout is arrow straight - paint is smooth as crystal glass with a deep gloss from being colored sanded and buffed and topped off with 3 coats of PPG clear. Looks stunning!

100% rust free body
Dual fuel tanks
All new lights and lenses
New electric wipers
New windshield, remaining glass in good condition
New weatherstripping and seals
Underneath is dry and rust free

Wheels and Tires:
Brand new whitewall tires
Wheels reconditioned to original specs - new lug nuts and studs, weights mounted on inside
New wheel bearings on all 4 corners
Axles are Dana 27's, rear has limited slip and have all new U joints

Engine:
196ci, 4 cylinder
T18 BorgWarner 4 speed transmission (first gear is granny low)
Dana 20 transfer case
Entire drive train is from a 1967 Scout and had approximately 45,000 miles
Both transfer case and transmission were inspected and resealed with new seals and gaskets
Engine was rebuilt with new bearings, rings, lifters, all new seals and gaskets, runs smooth and strong
All fluids and oils are fresh
Heads were removed, inspected and cleaned, new valve seals and springs
New water pump
Rebuilt carburetor
All new fuel lines, tank selector switch
New fuel pump and filter
New belt
New one-wire internally regulated alternator
New hoses and thermostat
New plugs, caps and wires
New battery
New muffler and exhaust
Differentials were drained, inspected, and new fluid differential oil added, all new seals, and wheel bearings
4 Wheel Drive works properly, high and low gear

Heating/Air:
New heater hoses, heater works great
New fan switch
New heater/vent ducts

Brake System:
Totally new brake system – lines, hoses, master cylinder, shoes, wheel cylinders, and hardware

Suspension:
New bushings and shocks
New bolts/nuts and U bolts/nuts
Steers nice and tight
Steering gear does not leak

Interior:
Brand new reupholstered vinyl seat with all new material underneath
Interior looks all new, gauges are clean, smells fresh and brand new
New rubber matting
All interior dash lights work
New interior instructional decals
Electrical was inspected, in good shape, added new light switch, new ignition switch
All gauges work properly with an additional temp, volts and oil pressure gauges to replace "idiot lights"
Clear title and clean Carfax in hand

These Scouts also have manual steering and brakes, so they are a little harder to turn and stop. Also know that they are gear driven and will not be as quiet as today's cars…think "little tractor". When you own one of these beauties you can expect some occasional tinkering and maintenance and since it is a carbureted motor one does need to pump the gas pedal prior to starting. That said, these are still incredible vehicles and well worth the extra care that is required.