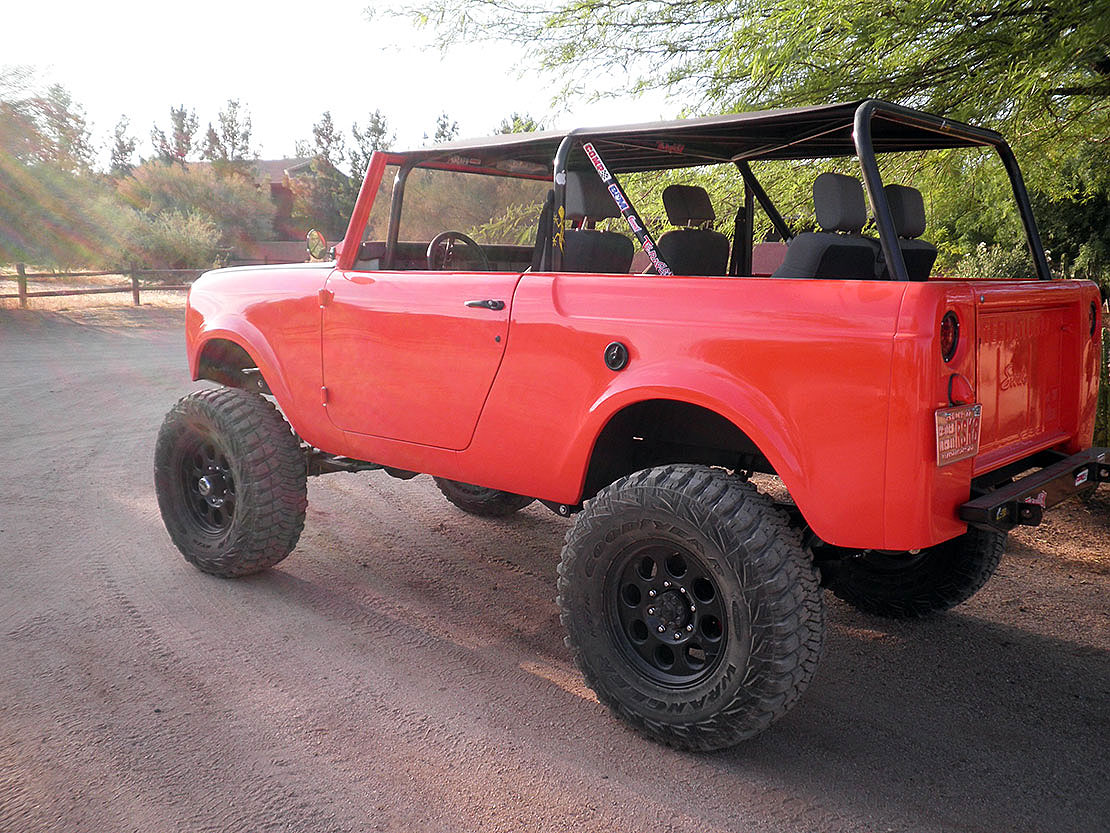 1968 International Scout 800
This 1968 International Scout 800 was completely restored with the following:
Brand new body and paint professionally done - straight as an arrow and smooth as butter, rust free, absolutely beautiful!
Hood painted in satin charcoal.
8 point roll cage made of DOM tube.
Seats from 2010 Jeep Wrangler.
Brand new 35/12.50/17 Goodyear MTR Kevlar Tires (over $1,600).
8 Lug Alluminum Wheels.
JAZ fuel cell behind rear seat (old tanks were removed).
New electric fuel pump, new fuel lines.
Professionally overhauled 305 Small Block Chevy engine with CAM and usual add-ons (headers, carb, intake, and distributor).
All engine components were brand new.
Nicely rebuilt TH350 automatic transmission.
NP205 transfer case with twin sticks (was disassembled, cleaned, inspected, and resealed).
All new U joints throughout front to rear.
New 105 AMP one-wire alternator.
Newer radiator with powerful Mark VIII two speed fan (high speed will suck the shirt right off your back...runs cool at about 190 degrees while in town and off-roading in our 100+ degree weather).
Front axle - Dana 44 large shafts with new wheelbearings and seals with 3.73 gears, locking hubs, 8 lug, high steer kit.
Rear axle - Dana 70 with full floating 1.5 inch axle shafts, cleaned and new seals.
56" Chevy leaf springs in the rear.
YJ springs in the front.
4 Bilstein shocks.
Magnaflow muffler.
Mostly new wiring.
Completely new power 4-wheel disc brakes system, all new brake lines and hoses.
Replaced floor pans with 18 gauge steel.
Thick steel bumpers with tow hooks.
Battery cutoff switch installed.
Bolts and screws replaced with new ones.