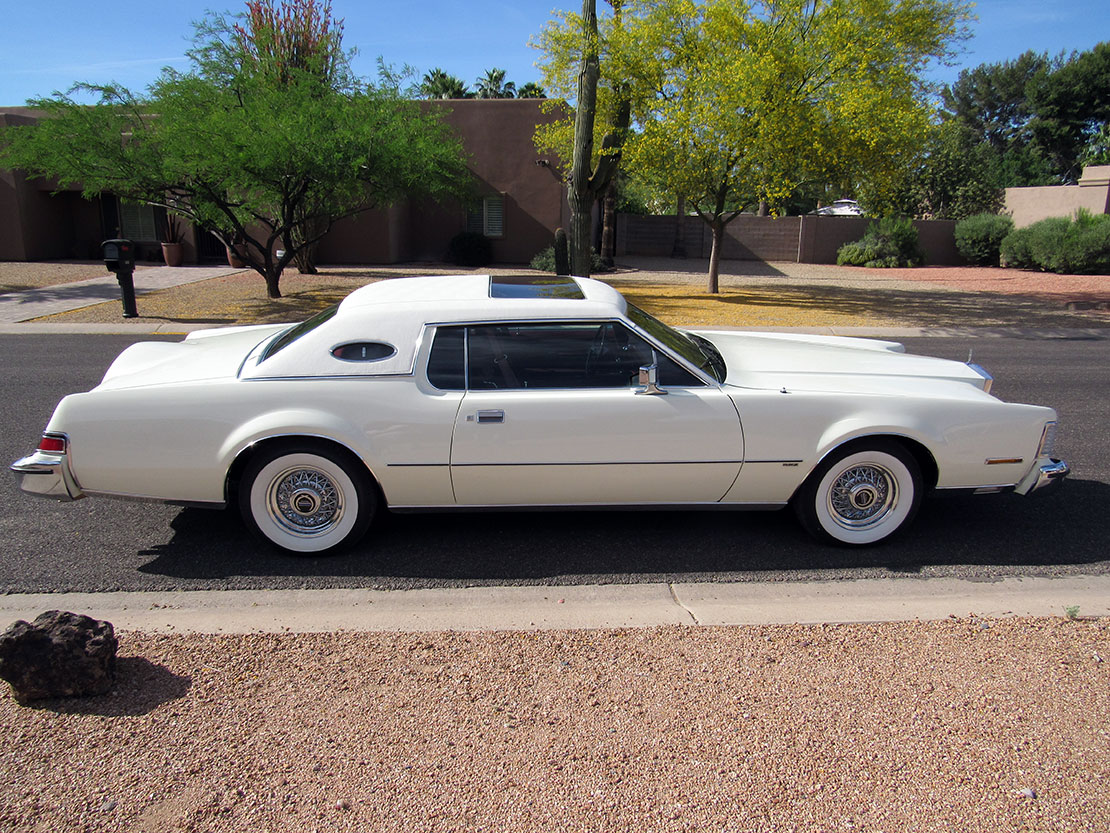 1974 Lincoln Continental Mark IV
Before we go into further detail, it's worth having a look at Hagerty's write-up on these luxurious gems.
1974 Lincoln Continental Mark IV 2 Door Coupe
"The Lincoln Continental Mark IV was new for the 1972 model year, available only as a two-door hardtop coupe. It was instantly recognizable because of its small "Greek Temple" grille, oval opera windows, and Continental rear trunk lid hump that evoked the Continental Kits of the 1950s. On top of all that, the new Continental was four inches longer than the 1971 model, adding to the visual impression of an extremely long hood….With so little differentiating the years and models in this generation, savvy buyers will want to concentrate heavily on condition and mileage…the Lincoln Mark IV remains an affordable and instantly recognizable artifact of 1970s luxury."
The owner wanted to keep many items on this vehicle original and in our typical fashion, we went through it meticulously. This car left in EXCEPTIONAL condition and drove INCREDIBLY SMOOTH, QUIET AND STILL TURNED USING JUST ONE FINGER!!! Following are all the details:
Body:
Bodywork and paint was professionally completed by seasoned Professional Auto Body Painter with 27 years in the business. Car was originally burgundy and painted the much more desired 1974 Lincoln White (9D) with 3 coats of clear, colored sanded and buffed. All black trim was cleaned and repainted. The bodywork is arrow straight, paint is glossy and smooth, and this Lincoln looks great!
100% dry and rust free body
Wheels and Tires:
Brand new Coker whitewall tires 225/75/15
Nice clean, aftermarket wheels, though original hubcaps were kept on hand
Engine:
460 4 Barrel
New Edelbrock 1406 Carburetor
3 speed c6 transmission
Dual exhausts
All fluids and oils were fresh
New thermostat
New fuel filter
New plugs
New battery
New belts and hoses
Brake System:
New pads
Rear shoes were in great shape
New brake hoses
New master cylinder
Interior:
BRAND NEW REUPHOLSTERED seats – Burgundy Velour – Looked Rich and Beautiful!
Interior was clean and fresh. Smelled like new!!
Brand New Headliner
Brand New "Plush" Burgundy Carpet
Brand New Dash Cap
Sunroof
All remaining interior was cleaned and reconditioned
All interior dash lights were checked and working
All gauges and instruments worked properly